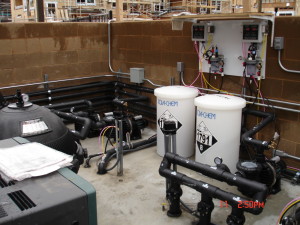 Aquatic Innovations Inc. offers professional and reliable pool maintenance services to commercial properties with swimming pools, spas, fountains and water features. Our pool technicians are trained and certified in water chemistry, knowledgeable with the latest energy efficient pool equipment, and proficient with the Health Department Codes.
Maintaining water chemistry balanced is more challenging in a commercial size pool, with additional swimmers, ensure you turn to a professional that specializes in high volume swimming pool services. Communication also sets us apart from others, we notify our Property Management Company's immediately of any pool equipment or other items required to keep you compliant.
Aquatic Innovations offers a full arrange of commercial pool care solutions, from pool cleaning, pool repairs, equipment repairs and pool safety items such as pool safety signs and pool safety devices.